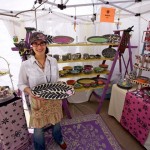 2018 Winter Events
Saturday, February 3, 10am-4pm, Valentine Pop-Up Art Market at The Center for the Arts Evergreen, 31880 Rocky Village Road (off of CR 65, Evergreen, CO, **NEW LOCATION)
Saturday, February 10, 10am-4pm, Studio Sale, 7425 Magnolia Rd, Nederland, CO 80466. Come see where we create and shop for your Valentine! We'll also feature the work of at least 3 other artists! 
——
We have some items for sale on our etsy page.
——————————————–
Stay connected with us via facebook.