2020 Autumn/Winter Events
December 5-6, Affordable Arts Festival Online Holiday Market, Tickets – $10 (proceeds benefit scholarships). This is a unique festival. EVERYTHING is $100 or less! If you opt to pick-up your purchases from my studio instead of shipping, I will have a FREE surprise art gift for you! For information and tickets, visit: https://affordableartsfestival.com/
November 26-December 8, Nederland Holiday Online Mountain Market, Proceeds from this market benefit seniors in the Nederland area. For more information, visit: mountainpeaklife.org
December 13, Magnolia Makers Holiday Self-Tour, Sunday 11am-4pm, Magnolia Area Nederland, CO. Our small mountain community is full of makers of all kinds of fine crafts, ceramics, art, ayurvedic herbs, soaps, and more! This is a self-guided tour of our studios with minimal contact. Most of us will have tables set-up outside with art offerings. You can pre-pay and pick-up orders or pay using an honor-system. I will have free gifts for everyone who visits my own studio: 7425 Magnolia  Drive,  Nederland,  CO 80466.  Additionally,  you  are  welcome  to  make  an  appointment   to   shop  on   Saturday,  December  12.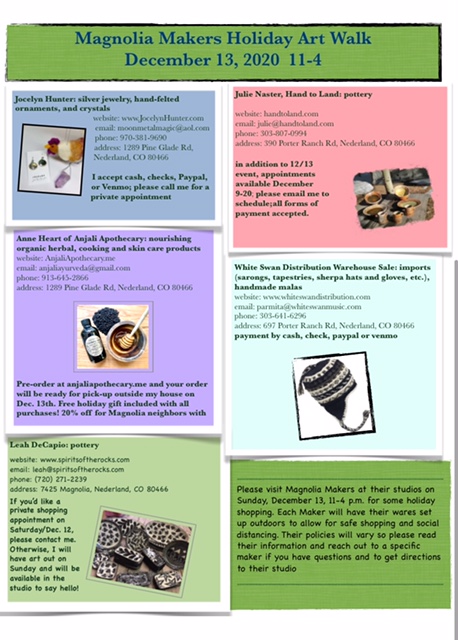 ——
We have some items for sale on our etsy page.
——————————————–
Stay connected with us via facebook.